Current Periodicals Reading Corner
Gift of: Dr. Robert & Dr. Virginia Cherry, RBC Library Director
Friends of the RBC Library Book Sale Area
In Honor of:  Nancy Marshall, Retired Dean of University Libraries at The College of William & Mary
Library Foyer
Gift of: Carole Summerville, RBC Associate Professor of Mathematics, and the Summerville Family
Large Seminar/Study Room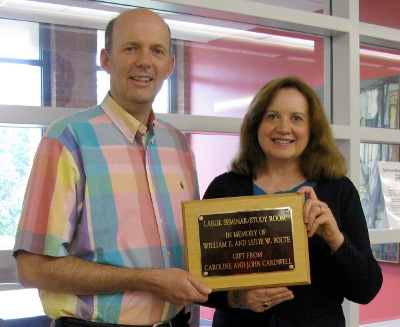 Gift of: Caroline and John Cardwell, in memory of William E. and Lulie W. Bolte (William Bolte was Commissioner of Revenue in Dinwiddie County and also served on the RBC Foundation Board for many years).
Large Study Lounge on Second Floor Overlooking Ernst and McNeer Halls
Gift of: Jerry Harvey and Pat Harvey, RBC Director of Institutional Effectiveness
Microfilm/Periodical Index Area
Gift of: Henry W. Geisz and Family, in memory of Brenda A. Geisz (2013), RBC Student (1978-1980)
Multimedia Room
Gift of: Dr. LeAnn Binger, Provost; Dr. Virginia Cherry, Library Director; Carol Kelly, Ret'd Faculty Secretary; Patsy Newman, Faculty Emeritus; Charlotte Rhodes, Faculty Emeritus; Kay Snavely, Prof. Computer Science; Margo Sommer, Assoc. Prof. Math; Carole Summerville, Assoc. Prof. Math
In Honor of: Roland Parsons, Former RBC Employee
Small Seminar/Study Room
Gift of: Helen Q. Sherman, Former RBC Librarian (She currently serves as Director, Users Services, for the Defense Technical Information Center (DTIC) at Ft. Belvoir, Virginia. Her first library position was as the circulation manager and reference librarian at Richard Bland College).
Special Collections Room (Virginia Room)
In Honor of: Elizabeth D. Hartman, First RBC Librarian
Student Copy Center
Gift of: Helen Q. Sherman, Former RBC Librarian
Individual Library Table
Individual Library Carrel