How to Apply for Financial Aid
To determine your eligibility for all types of financial assistance at Richard Bland College, you must apply each year. Follow this checklist to help you successfully complete the process.
For prospective students and transfers: Apply for Admission
You may apply for financial aid without being admitted to the College. However, your financial aid application will not be processed until you have been admitted. Admission requires a separate application.
FAFSA Changes For 2017-18
On September 14, 2015, President Obama announced significant changes to the Free Application for Federal Student Aid (FAFSA®) process that will impact millions of students. Starting with the 2017­–18 application cycle, the following changes will be put in place:
Students will be able to submit a FAFSA®Students will be able to file a 2017–18 FAFSA as early as Oct. 1, 2016, rather than beginning on January 1, 2017. The earlier submission date will be a permanent change, enabling students to complete and submit a FAFSA as early as October 1 every year. (There is NO CHANGE to the 2016–17 schedule. The FAFSA became available January 1 as in previous years.)
Students will use earlier income information. Beginning with the 2017–18 FAFSA, students will be required to report income information from an earlier tax year. For example, on the 2017–18 FAFSA, students (and parents, as appropriate) will report their 2015 income information, rather than their 2016 income information.
The following table provides a summary of key dates as we transition to using the early FAFSA submission timeframe and earlier tax information.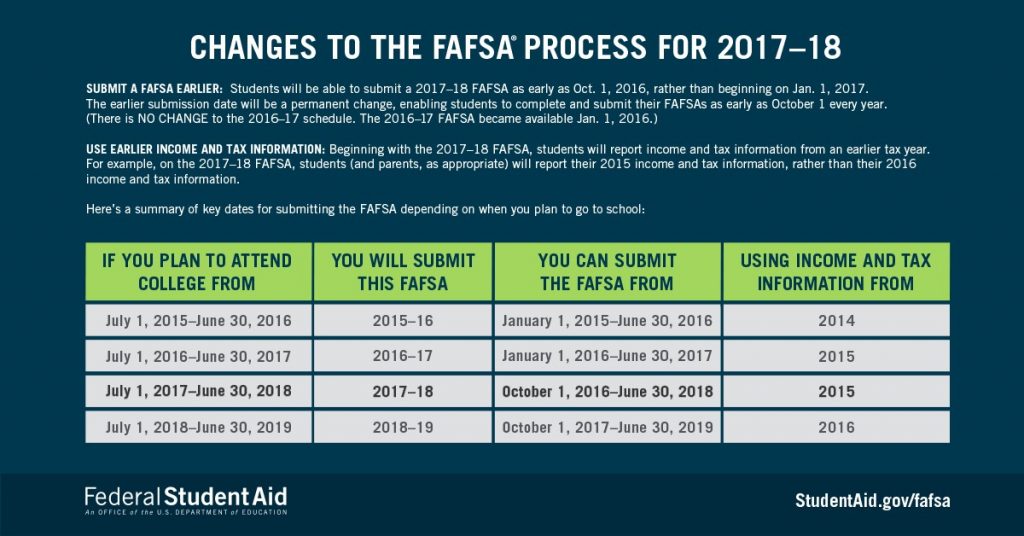 Complete the Free Application for Federal Student Aid (FAFSA).
The FAFSA online application is available at www.fafsa.gov.
You will need to create a Federal Student Aid identification. This commonly referred to as FSA ID. You can create the FSA ID at fsaid.ed.gov. If you are dependent student, one parent will also need to obtain a FSA ID. Your FSA ID can also be used to make any FAFSA corrections, to monitor your status with federal aid programs, and to access the National Student Loan Data System (NSLDS).
The 2016-17 FAFSA is available after January 1, 2016. Our priority filing deadline is March 1st. Federal Tax Return(s) for 2015 and other financial documents are needed to complete the FAFSA. Students are strongly encouraged to use the IRS Data Retrieval Tool for the Income Information reported on FAFSA. Use estimated tax information if necessary in order to meet the priority filing dates.
Our School Code is 003707.
Review your Student Aid Report (SAR). If information is incorrect or missing, please make corrections on the web and submit them to FAFSA.
Follow up with any necessary paperwork and forms.
If your FAFSA is selected by the federal government for verification or there are any additional documents we need to finalize your financial aid, you will be notified by our office with specific directions on what to do and/or what to submit.
Verification forms are available on our website.
Richard Bland College Federal Direct Stafford Loan Application.
Complete and submit this application ONLY if the student needs to borrow a Stafford Loan to pay for educational expenses. The application is available on our website.
Receive and review your financial aid award letter package.
Award statements are mailed in early April to prospective students and in mid-June to returning students.
Settle any remaining balance with the Business Office by the tuition due date.
Ready to Create Your Journey?