Jan
15
Homecoming '18
@ Campus
Multi-Day Event
January 15, 2018 @ 1:00 pm - January 20, 2018 @ 11:00 pm
Mark your calendars now to take part in a multitude of Homecoming '18 activities around campus!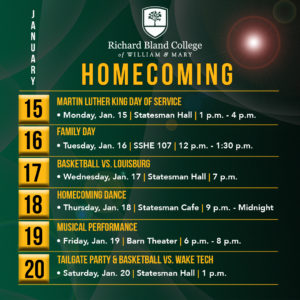 Ready to Create Your Journey?
Deciding where to go to college is a big step, and we're here to help you every step of the way. Connect with us to find out more about Richard Bland College.