Statesman Scholar Danny Torres
There have been many challenges throughout my life and also great blessings for which I am very thankful. One of those great things that I have been able to achieve is being at Richard Bland College of William & Mary for academics, soccer, and personal opportunities.
I am an international student from Colombia, South America. It was not easy to leave my family and friends to come to the United States and to stay here. When I finished high school in Colombia there were several options for my future but one that really caught my attention was coming to the U.S. with a scholarship opportunity to attend the 12th grade at St. Christopher´s School in Richmond.
During the first months of 2016, I started to search for colleges where I could combine soccer and academics. Soccer is the sport that I love and have always played, so being able to play soccer at the collegiate level was important. I felt that Richard Bland College was the best option regarding academics and athletics.
During my freshman year at RBC, I earned an overall GPA of 3.7, won the region tournament with the soccer team, and received an honorable mention. This year my main goal is to increase my GPA, plan my transfer to a 4-year college and hopefully win a Region X Conference soccer championship, while giving my best at all times to others. I am a Residential Assistant and am serving as Student Representative to the State Council of Higher Education Student Advisory Council representing Richard Bland College.
At one point I wasn't sure if I was going to be able to stay in America before coming to RBC. My financial situation was very difficult and I couldn't afford paying for college even with the scholarship that I had received. Thanks to God I received a lot of support from many people who trusted in me and now I can see the reward to all the effort that has been done. I am very appreciative with what God has done in my life and to Richard Bland College for giving me so many opportunities and allowing me to improve and continue my journey in the United States.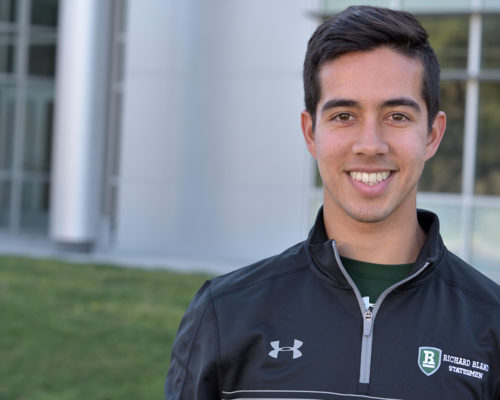 Ready to Create Your Journey?