Statesman Scholar Mallory Cunningham
During her time as a Richard Bland College student and volleyball player, Mallory Cunningham, Richard Bland College of William & Mary Class of '20, has learned a thing or two about perseverance.
Becoming a student-athlete at Richard Bland College of William & Mary was something of a family tradition for Cunningham, who has aspirations of becoming a lawyer.
"My father, Eric, was captain of the 1985-86 Richard Bland College basketball team and is a member of the College's basketball Hall of Fame," she said. A self-described "athlete since I was 3 years old," Cunningham decided to follow in her father's footsteps by attending RBC and playing on the inaugural Women's Volleyball team.
At her very first practice, Cunningham experienced a major setback.
"I approached the net on a kill shot, something I have done hundreds of times before without incident," she said. "I jumped high, but landed awkwardly on my left knee. It buckled badly, and excruciating pain exploded as my knee began to swell."
Following medical tests, Mallory received word that both her MCL and ACL were torn. Having played sports all her life, injuries were nothing new to Mallory, but this injury would require 12 months of extensive rehabilitation.
"Surgery was forthcoming, along with the end of a season that never really started," said Mallory. "Despite being comforted by my family, I could not keep myself from crying. Each day of therapy seemed to drag on," she recalled. "I felt emotionally exhausted at the end of every session, and the end seemed like it was nowhere in sight."
Cunningham credits the people around her – including her family and friends, as well as faculty and staff at Richard Bland – for keeping her on-track and focused on her return to the court.
"Their encouragement kept me motivated to tackle each day of physical therapy and rehab, and focused on my academics as an honors student," she said.
Cunningham made her return to the court this season, where she helped the team win the NJCAA Division I Region X Championship.
Going through the injury and subsequent rehab was daunting, but Cunningham learned a valuable lesson from the adversity.
"Despite everything, going through such a traumatic injury ended up having a positive effect on me," she said. "I learned how challenging it is to develop patience."
Cunningham plans on applying these lessons outside of the volleyball court, as she looks to continue her education.
"My ultimate goal is to attend the University of Virginia and become a lawyer," she said. "The journey will require dedication and endurance, but because of my experiences, I am prepared for any obstacle that stands in my way."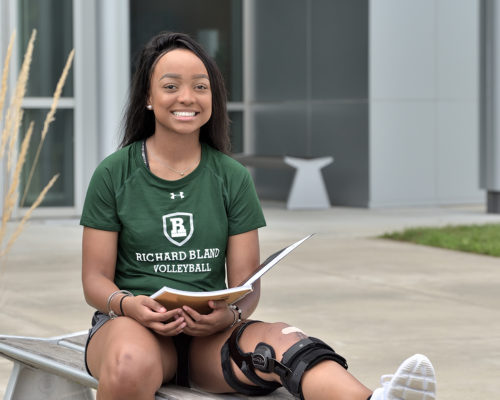 Ready to Create Your Journey?