Statesman Scholar Michelle Britt
While attending West End Christian School in Hopewell, where I graduated as valedictorian in 2017, I struggled with choosing between two career interests: marine animal rehabilitation and pediatric/obstetric nursing. I am considering both as professional careers because I want to help people and/or animals, and each path provides a different degree of satisfaction and fulfillment.
As a first-year student at Richard Bland College of William & Mary, the College is providing me with exceptional learning opportunities and a strong academic foundation in both of my career interests. I am taking Chemistry, which covers the basics needed, and Medical Terminology, which is helping me become familiar with common medical terms and an overview of each system in the body.
RBC has great transfer agreements. If I decide on a career in pediatric/obstetric nursing, VCU, George Mason, and James Madison are strong options. For marine biology, I am interested in attending William & Mary or Old Dominion University.
Attending RBC was a natural transition following high school. Both of my parents are RBC graduates. My mom, JoAnn, graduated in 1977, and my dad, Tim, in 2011, deciding to pursue a college degree after working in construction. They said the College's small class sizes were ideal for learning, and interaction with faculty and staff were positive.
RBC has made the transition from high school to college very smooth. The College is affordable, and I like being able to share my college experience with my family.
I finished the fall semester with a 4.0 GPA, and was selected to take classes at William & Mary through the RBC Bridge Program. Twice a week I take an Archaeology class on W&M's campus, and it has been a fantastic experience. Not only is the Bridge Program a bonus of attending RBC, but it has allowed me full access to everything that William & Mary offers as a potential transfer school. Without a doubt, RBC is providing me with the academic foundation that I need for future success.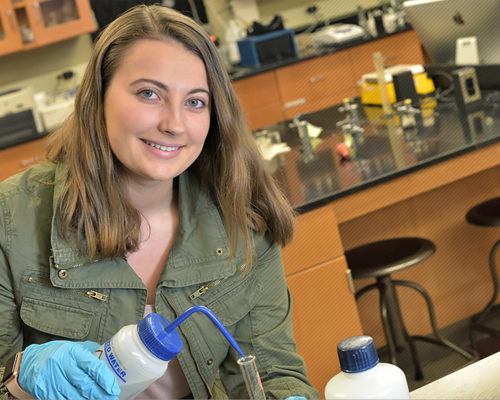 Ready to Create Your Journey?