Dr. David Morgan
Professor of Physics & Chair of Natural Sciences & Mathematics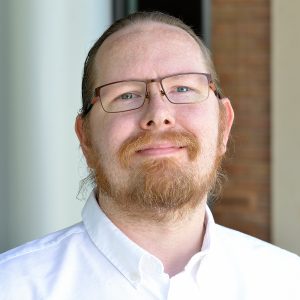 Contact Information:
McNeer Hall, Room 123
(804) 862-6100, ext 6442
dmorgan@rbc.edu
Education & Publications:
Undergraduate:
Towson University, 1992
Graduate:
College of William and Mary, 1994
Doctorate:
College of William and Mary, 1997
Publications:
"Momentum Before Newton: Writing & Reasoning Activities for Introductory Physics"
The Physics Teacher, Vol 56, p. 633, December 2018

"Measuring the Effect of an Astrobiology Course on Student Optimism Regarding Extraterrestrial Life"
International Journal of Astrobiology, University of Cambridge Press, Volume 16, Issue 3
July 2017, pp. 293-295

"Einstein, Galileo, and Kepler: The Scientist Operas of Philip Glass"
Proceedings of the Ninth Conference on Inspirations of Astronomical Phenomena (8/2016)

"A Millimeter Wave Signature for Strange Matter Stars"
Astrophysical Journal Letters, 492, L71 (astro-ph 9706094)

"Electroproduction and Hadroproduction of Light Gluinos"
Physical Review D, volume 53, number 5, 2798-2803 (hep-ph 9509221)
Bio:
Dr. David Morgan received his PhD from The College of William and Mary in the area of theoretical high-energy and particle physics. For more than 10 years, Dr. Morgan taught physics and astronomy at Eugene Lang College, the undergraduate division of The New School in New York City. Before coming to Richard Bland College, he held a position as the founding director of a STEM academy for advanced high school students,
In 2004, Dr Morgan was one of eight commissioned artists to receive funds to co-write a science-inspired play for the Ensemble Studio Theatre. The resulting work, The Osiander Preface, explores the circumstances surrounding publication of Nicolaus Copernicus's masterwork, "On the Revolutions of the Heavenly Spheres". The Osiander Preface was featured in EST's Octoberfest and First Light events in 2004 and 2005. Subsequently, the play was given a staged reading at LaMaMa Club in New York City as part of a 2-day "Science and Theatre" event.
Dr. Morgan has also contributed to a number of popular-audience books about philosophy, science fiction, and the philosophy of science by Open Court Press, including "Twilight Zone and Philosophy" (2018), "Jimi Hendrix and Philosophy" (2017), "Jurassic Park and Philosophy" (2014), and "Planet of the Apes and Philosophy" (2013).
Ready to Create Your Journey?