Jamia Hines
Instructor of Communication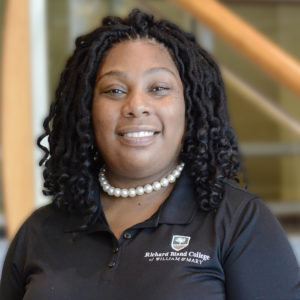 Contact Information:
McNeer Hall Room 121
(804) 862-6100, ext. 8568
jhines@rbc.edu
Education:
Undergraduate:
Norfolk State University, 2006
Graduate:
Lasell College, 2015
Doctorate:
Northcentral University, anticipated completion 2022
Bio:
Jamia Hines is an Instructor of Communication at Richard Bland College. Before coming to RBC, Jamia has taught communication courses at University of Phoenix, Central Texas College, Chester Career College and John Tyler Community College. Some courses include Human Communication, Public Relations, Public Speaking and Multi-Cultural Communication. She has a passion for teaching and loves being able to share her knowledge to others about the importance of having superb communication skills in the diverse, fast-paced society in which we live in.
Professor Hines has also maintained active research in diversity, equity and inclusion practices for higher education. She has created modules and provided resources for college faculty to gain an understanding and how to incorporate diversity, equity and inclusion within their teachings. In her doctoral studies, she is conducting research regarding the COVID-19 pandemic and the online instructional challenges teachers faced in rural, Title I, schools. She gained an interest in this topic after seeing the effects of the pandemic on children and teens who were forced to learn through virtual instruction despite their learning abilities and living situations (unstable and unsafe environments, homelessness, economically disadvantaged). Her goal is not only to provide Title I schools with solutions to creating better learning environments in the midst of a pandemic but to also help higher education faculty understand the challenges that many students who lived in lower income and rural areas faced. This could aide in understanding how to better cater to the learning needs of students once they attend a higher education institution.
Currently, Professor Hines is actively involved in working with the Learner Success Team for the Honors/Promise Scholars and Speech and Debate Team of RBC.
Ready to Create Your Journey?