Employment Opportunities
Thank you for your interest in a career with the Richard Bland College of William & Mary!
Welcome to RBC, Virginia's only Junior College!
The Richard Bland College of William & Mary (RBC) campus straddles the border of Prince George and Dinwiddie counties, just south of Petersburg. RBC was established in 1960 by the Virginia General Assembly as a branch of the College of William & Mary. The College's mission is to prepare students for university transfer through academically rigorous programs grounded in the liberal arts tradition of William & Mary, and to expand access to college credentials through strategic partnerships, specialized programming, and scalable innovation.
Richard Bland College is committed to the recruitment of qualified and diverse faculty and staff. At RBC, we respect and appreciate the wealth of knowledge and experience each employee brings to the workplace. We hope that you will take a few minutes to explore the job opportunities we have available and consider becoming a part of the RBC family.
View Our Current Employment Opportunities
Americans with Disabilities Act
In compliance with the Americans with Disabilities Act (ADA), Richard Bland College will provide, if requested, reasonable accommodation to applicants in need of accommodation in order to provide access to the application, interviewing and selection process. You are not required to note the presence of a disability on your application. If, however, you require accommodations in the application and/or interview process please contact the Office of Human Resources at (804) 862-6100 or rbchr@rbc.edu.
Criminal Background Checks
Richard Bland College conducts criminal background checks (fingerprinting) on all finalists for employment. Successful results are a condition of employment and must be received prior to the first day of work. For more information on Richard Bland College's Criminal Background Check Process, please review the policy here.
Veterans
In accordance with Virginia state policy, a veteran's military service will be taken into consideration by RBC during the selection process provided the veteran meets the minimum requirements of the available position.
Richard Bland College is an equal opportunity/affirmative action employer, which encourages applications from qualified females, minority groups, veterans, and disabled individuals. Richard Bland College will comply fully with the equal opportunity provisions of all applicable laws, regulations, and policies and will not discriminate against any employee or applicant for employment because of gender, gender identity, disability, race, color, age, religion, national origin, or veteran status.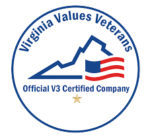 Ready to Create Your Journey?