Statesman Scholar Jamaica Jones
Jamaica Jones is a second-year student from Norfolk, Virginia. A honors student and a member of the Promise Scholars program, Jamaica serves as President of the Student Assembly.
Why did you want to serve as Student Assembly President?
It was important to represent the study body at RBC and be a voice of students. My goal was to become involved in making the campus better for all students – residential and commuter. RBC offers a tremendous number of opportunities, even during the current pandemic environment, and it was important to foster a positive experience for everyone. Being part of Student Assembly has helped me do that and create my own leadership role on campus.
What are your plans as Student Assembly President?
Unify the campus and promote discussion with my fellow students. It's been important that Student Assembly embrace and promote the College's Safe & Secure program and keep reminding my fellow students that better days are coming. Although in-person meetings can't happen, technology enables everyone to meet virtually. Building committee structures and keeping students interested in the Student Assembly has been the main goal.
Why did you choose RBC?
RBC was the perfect fit financially and academically. I wanted to gain experience in my career path before transferring to a four-year school. Being a member of the Honors and Promise Scholar programs has provided many opportunities I never knew existed. I feel grounded on campus and I now have the confidence going forward to pursue my future goals.
What is your advice to a student considering RBC?
I would encourage students to attend to secure their academic base if they're unsure of the future. The College provides a lot of information and direction to help students made the best decisions moving forward.
What is your fondest memory at RBC?
Participating in the Honors Program and uniting with fellow students. It has been a great experience collaborating with other students in events, seeing how others work, and sharing ideas.
What is your favorite place on campus?
The library. I have worked at the library and it holds so much joy for me studying and seeing other students on campus. I loved studying on the second floor and seeing the vast view of the academic building. It's a spot I won't forget.
What are some of your hobbies?
Sunbathing and knitting.
What are your career goals after RBC?
I plan on attending William and Mary and will major in Business/Marketing. I hope to land an internship in Richmond after I finish college.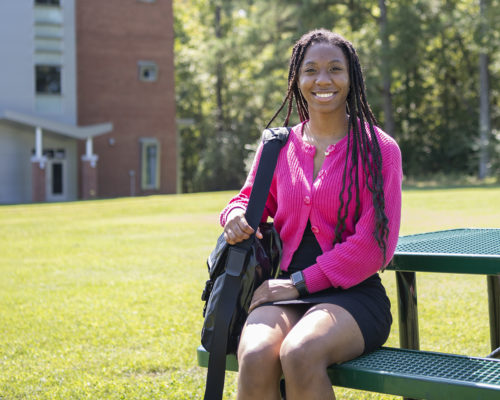 Ready to Create Your Journey?