Statesman Scholar Vandyke Gyau
Vandyke Gyau, a native of Sunyani, Ghana, moved to Virginia five years ago to join his mother. She had relocated with a relative in search of a new career, and had secured a job as a lab technician in Northern Virginia.
College wasn't on Gyau's radar after graduating from Mount Vernon High School. He had planned to play soccer in Europe or join the Marines, but had a change of heart. Gyau was recommended to attend Richard Bland College of William & Mary by former Statesman Peter Diawuo, who also hailed from Ghana.
"I visited the school several times, watched Peter play in home games and got to meet a few professors," Gyau said. "I knew I wanted to come here to study and play soccer."
Gyau says he has no regrets about his decision to pursue a new life in America.
"I was reluctant to leave home, but when I look back on how things have turned out, I know coming to the United States was a blessing and a great opportunity. I've gotten a great education and been able to play soccer at the college level."
Gyau is soft-spoken off the field, but hard-nosed and competitive between the lines. When living in Ghana, he attended a private school in the capital city of Accra. He says the school's strict codes of study, dress and behavior prepared him for academic rigor and time management that came into play once he began his college journey at Richard Bland.
"My teachers pushed me to my potential," Gyau said. "Professors at Richard Bland have done the same. As a student-athlete I have to pass classes to play, therefore I study and get good grades. I am self-motivated. Being a Statesman Scholar is important to me."
Gyau was taught to play soccer at age 2 by his father Samuel, a semi-professional player. This past season Gyau was named the unanimous NJCAA Region X Player of the Year for his achievements on the field. It was a big honor for the 5-foot-7, 150-pound defender who dominated games from his center back position.
"League coaches recognized his heart, talent, and leadership," said first-year RBC head coach Damien Westfield.
If his career aspirations fall into place, Gyau would like to attend George Mason University next year, and has lofty goals.
"I'd like to pursue a career as a professional soccer player and then use my degree to become a physical therapist. I take my studies as seriously as soccer, so I have life goals I want to achieve."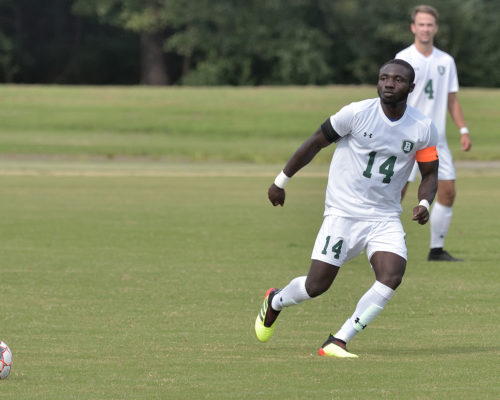 Ready to Create Your Journey?