Statesman Scholar Harper Smith
At a time when I needed to make a dramatic change in my life, social media helped me save one person's life and change another's forever.
In May 2016, I read a post on Facebook called, "Virginia Single Father Searching For Living Kidney Donor." It profiled a man who had been diagnosed with a disease that shrinks the kidneys. He was hooked up to a dialysis machine 10 hours a day while trying to parent his children. As I read the story over and over, I could not resist feeling his sense of helplessness. "I want to give him one of mine," I told my brother. "This is something I am meant to do … as soon as possible." Coincidentally, I had met this man five months earlier at a party hosted by mutual friends. Having now learned of his situation online, I was ready to help.
My life was far from perfect at that time. I dropped out of Christopher Newport in 2013. I was a member of the volleyball team, but CNU wasn't the place for me. I partied five days a week and weighed 270 pounds because I couldn't pass a fast food restaurant without going in. During this time, furthering my education was the last thing on my mind. But when I read the Facebook post about someone so sick, something clicked. I knew at that very moment I had to change my life and save his.
My family and friends heard about my desire to donate my kidney. We were all in agreement but overwhelmed with the next four months of medical and psychological preparation needed to donate a kidney. Luckily, the surgery was a complete success, and I healed feeling better physically and mentally than ever before. Today I am 100 pounds lighter, maintain a Vegan diet, a strict exercise regimen, and I am a happy person studying and playing volleyball at Richard Bland College of William & Mary.
When I dropped out of CNU, I didn't think I'd ever play volleyball again. I knew of RBC Coach Scott Newton from Richmond area volleyball, and he encouraged me to enroll at Richard Bland.
I first concentrated on my academics throughout the year, and then became eligible to play volleyball this year. Academics used to be the last thing on my mind, but with the supportive environment at RBC, I am a Dean's List student.
Every day I look at the scars on my body and remember that by giving to save a life, I was saved.
Being a student-athlete at RBC has given me a second chance at school, volleyball, and most importantly, a healthy lifestyle.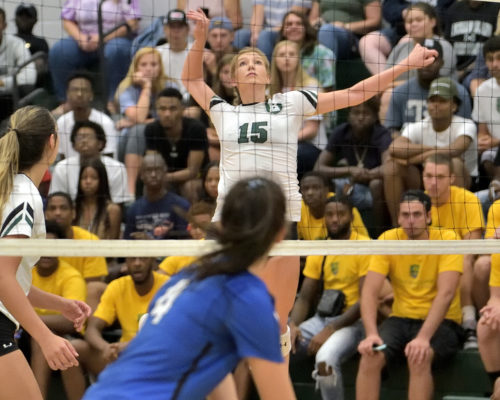 Ready to Create Your Journey?