Statesman Scholar Kayla Hand
During my senior year at Hickory High School in Chesapeake, deciding where I was going to college was a difficult decision. I wanted to attend a college where I could earn a respected degree and play softball. Richard Bland College of William & Mary proved to be the perfect place where I could challenge myself academically and athletically. Even though I graduated high school with a 4.03 GPA, I knew I would need to adjust to the academic rigor, softball competition, and managing my time.
My first semester at Richard Bland was everything I had hoped it would be. I've always preferred smaller classes. It helps a student get to know professors and classmates in a comfortable learning atmosphere. At RBC, the professors are invested in students and care about their academic success. Meeting new people, whether they are first or second-year students, from Virginia or throughout the world, has been a fantastic part of my college experience. I have made lifelong friends at RBC; that's one of the neat things about this college. It helps create relationships to build upon throughout your life.
I finished my first semester with a 3.73 GPA, and now that I know how to study in college, I will complete my second semester with a 4.0 GPA.
Being a Statesman Scholar, honor student and athlete has taught me time management. With lots to do every day, I have to stay focused and organized to complete tasks. Perhaps I have learned to stay on track from my position as catcher on the softball team. The catcher has to know what's happening on the field at all times!
Richard Bland is preparing me to realize my dream, which has always been to attend William & Mary. Through the Promise Scholars partnership with W&M, I will be able to transfer to W& M after graduating from RBC, and earn a prominent degree with little or no debt.
After I graduate from William & Mary, I plan to enroll at the Eastern Virginia Medical School to complete my Masters towards becoming a physician assistant. I thank Richard Bland College for helping me become the responsible adult that I always knew I would be.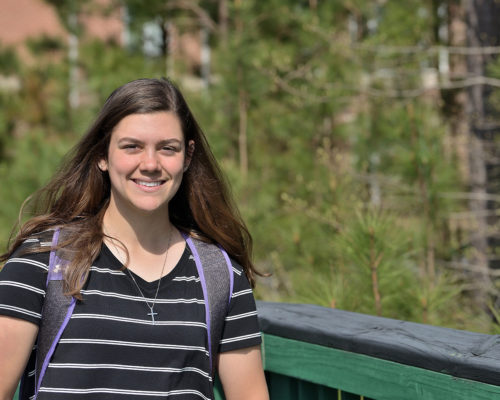 Ready to Create Your Journey?