RBC Celebrates Class of 2020
RBC to Hold Virtual Commencement Ceremony • May 13 at 6 pm
Updated: May 19, 2020 @ 9:40 am – RBC Celebrates Class of 2020
View the 2020 Virtual Commencement Ceremony
RBC to hold Virtual Commencement Ceremony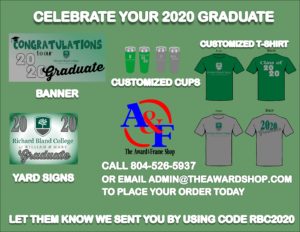 Class of 2020 Items For Purchase
Congratulations on your graduation! To help you mark this special event, The Awards Shop in Colonial Heights, VA, is offering RBC Class of 2020 items for purchase. Please view the attached flyer with corresponding prices below and call The Awards Shop to order and pay.
Cups with logo and student's name or other message – $18.95 each
18″x24″ coroplast sign w/ metal stand – $9.00 each
2'x4′ banner with grommet for hanging – $14.25 each
T-shirts in green or grey – $8.95 each*
You pick 3 – $25.50 (+$2 if you select the cup)
*The Records & Registration Office will be mailing you a free t-shirt – different than the one seen on the flyer – with your diploma.
---
Graduation Requirements
To qualify for May graduation, students need a 2.00 GPA, earn at least 60 credits, and ensure that all major requirements have been satisfied. Summer candidates must complete all requirements by August 2020 to qualify as a summer graduate and may not exceed more than 12 credits during the summer.
---
Commencement exercises occur only once per year in May. The ceremony is comprised of the previous fall and current spring graduates and upcoming summer candidates.
Graduation applications are due by:
February 2: spring candidates
November 1: fall candidates
2020 Graduation Application (doc)
Ready to Create Your Journey?